What fun we had "Remembering Mel" with you this past season. If I hadn't heard you myself I would not have believed how much you truly sound like the legendary Mel Tormé. Your program here at The Queensborough Performing Arts Center was very well received. You took us down memory lane with such familiar standards as Jet Set, The Trolley Song, Get Me To The Church On Time and your light hearted humor and stories of growing up in Queens made for perfect musical segues. Not only was your selection of music very appropriate, but the orchestra conducted by Albee Barr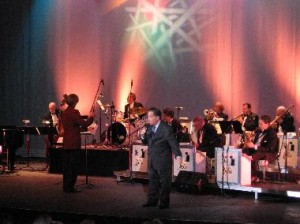 accompanying you was also terrific.
You could tell that they were professional musicians who really knew how to back a professional singer. It was also very clever of you to perform a portion of the show backed by your jazz combo which came off as though it were a "show within a show." There is no doubt that "Remembering Mel" brought back wonderful memories for our guests. You are easy to work with and we looking forward to hearing more about the new programs you are working on and in working with you again.
 - Susan Agin, Managing and Artistic Director – Queensborough Performing Arts Center